Hero
Shadow Falls Campground
Gay (LGTBQ), Clothing Optional, Adult Only (18+) Campground
Harrison Mills, British Columbia
Pre-Season Message
Bookings will begin April 1st (staggered opening).
Bookings Open
Arrival Dates

Apr 1

April 8, 2023

May 11 (Thu) - May 31 (Wed)

Apr 8

April 15, 2023

Jun 1 (Thu) - Jun 21 (Wed)

Apr 15

April 22, 2023

Jun 22 (Thu) - Jul 12 (Wed)

Apr 22

April 29, 2023

Jul 13 (Thu) - Aug 2 (Wed)

Apr 29

May 6, 2023

Aug 3 (Thu) - Aug 23 (Wed)

May 6

May 13, 2023

Aug 24 (Thu) - Sep 11 (Mon)
As the season progresses, we will decide whether to stay open beyond the dates posted and update this list accordingly.
The "Lottery"
We will be once again operating a "lottery" for requests made on the dates in the left column. Basically this just means that we open reservations on the date listed above. After 24 hours have passed, we will randomize the order which requests were made and process them in the randomized order. This is to avoid the rush, confusion, and frustration that often results from eager campers refreshing the page at the exact moment they anticipate their dates opening on our reservation form. Technological issues should not disadvantage your opportunity to get a booking on a "high demand" weekend.
So take your time and please ensure that you've filled out all of your details correctly. Upon submitting a request, you will receive a confirmation email. If this did not happen, please check your spam box. But more often, it is the result of simple typos in your provided email address and we cannot do anything to rectify that.
Any bookings made after that initial 24 hour "lottery period" will be processed in the order they are received.
Location Description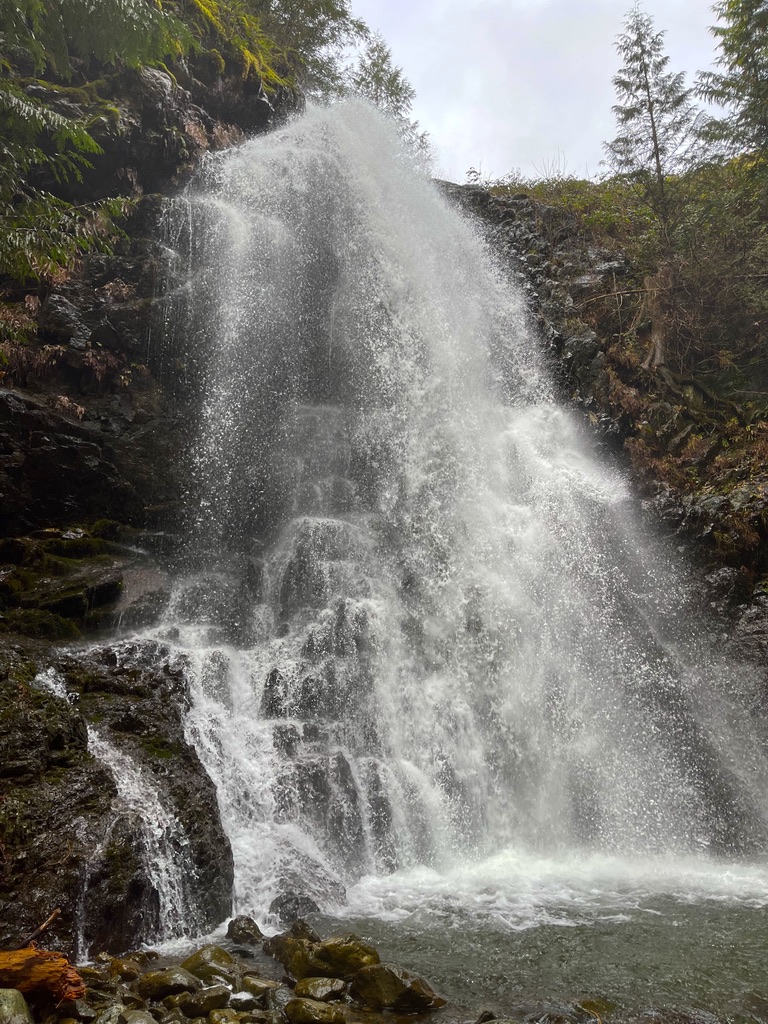 Shadow Falls Campground is located in the historic community of Harrison Mills, British Columbia. The campground is 110km east of Vancouver and 20 minutes drive from Harrison Hot Springs.
The property is a forested 40-acres, with a creek (Connor Creek) running through it. There are many trails and waterfalls to explore, a clubhouse for events, proper indoor washrooms, and a 5000sqft green-space for socializing and sunbathing.
Site Accomodations
You don't need to have a tent or rv to enjoy the space. All day visitors must leave the campground by 10pm. You may attend one of our events as a day visitor for an additional fee.
$5.00 CAD

per person

$5.00 CAD

(events) extra per person
Our RV sites can accomodate many sizes, up to 45' motorhomes. Our sites are all serviced with 30A electrical, potable water, and most have sewer. Additional sani-dump available for those sites without.
$17.50 CAD

per person per night

$5.00 CAD

utilities per night
All of our tenting sites have a fire-ring and access to power on the site ($5 charge). Our tenting sites vary in size, some accomodating groups of at least 10 people. For larger groups, multiple sites should be requested.
$17.50 CAD

per person per night

$5.00 CAD

(optional) utilities per night
Campground Services
WiFi
We have a shared rural connection, but it will let you stay connected.
Washrooms
Real washrooms, with flush toilets and everything!
Warm Showers
Showers are coin operated. $1 gets you 7 minutes. Loonies only (change available on site).
Electrical
All RV sites have electricity and most tenting sites even have (optional) electrical service.
Firewood
Bundles of firewood are available for sale ($10 a bundle). (You are free to bring your own)
EV Charger
Level 2 (AC 30 Amp) EV Charger is publicly available at the owner's residence.
Potable Water
We have a 150 ft deep well that services all of our taps.
Laundry
Coin operated washer and dryer are located in the Clubhouse (separate entrance).
Cube Ice
We stock Hope Ice bagged cube ice. Can$3.50 per bag.
Special Events
We will be open 7 days a week beginning (Thu, May 11).
Welcome Back BBQ

Saturday Night @ the Clubhouse
Victoria Day Weekend
Fri, May 19 - Mon, May 22
Join your fellow campers for a burger or a smokey at the clubhouse on Saturday afternoon.
Disco Dance

Saturday Night @ the Clubhouse
Canada Day Weekend
Sat, Jul 1 - Sun, Jul 2
Dust off your dancing shoes and iron your bell-bottoms. And don't miss out on the 'More Fun' Punch
Chilli Cookoff

Saturday Night @ the Clubhouse
BC Day Weekend
Fri, Aug 4 - Mon, Aug 7
All campers are invited to join the competition for a spot on the coveted 'Plaque of Chilli Champions'.
Pig Roast

Saturday Night @ the Clubhouse
Labour Day Weekend
Fri, Sep 1 - Mon, Sep 4
Watch the pig go round and round all day until dinner time.
We will be closing for the season Mon, Sep 11.